Drag & Drop is now a Common feature in most of the WordPress Plugins. When it comes to creating a Simple Contact Form for Your WordPress Website, there are tons of Forms Builder available.I am going to review wpforms WordPress plugin. The approach to explain that WPForms lite or Pro is useful for you.
An overview on WPForms
WPForms Price
WPForms User Experience
Features of WPForms [Premium Features vs Lite]
Expert Thinking & Opinion for WPForms Plugin
Final Conclusion [is wpforms is good for you?]
Let me explain a little bit about Forms important. Well, Forms are very important when it comes to Designing a WordPress Website. Some of the important forms are as follow:
Simple Contact Form
Customize Contact Form
Survey Forms
Quizzes
Feedback Collecting Forms
Payment Receiving Form
Newsletter Form [email list Building Forms]
And More
Above examples of Forms depend on your requirements. And some of them are common for WordPress Websites. For example, a Course running WordPress Website requires almost all above listed forms. In this post, I will explain how you can evaluate your website's purpose while selecting Forms builder.
At the end of this WPForms review, you will be able to understand many things as below:
Is WPForms lite enough for you?
How can you evaluate your WordPress Website while choosing Form builder?
Is the Pro version of WPForms good or waste of money for you?
Which WPForms features are good for you?
How to select WPForms Plan?
Let's get started step-by-step reviewing WPForms Plugin.
An overview of WPForms: A WordPress Form Building Plugin
WPForms is a well known as a best WordPress Form building Plugin. It offers seamless features to create contact form in a simple way. WPForms recently reached over 3 Million+ active Installation. Well the data for Pro version is officially reserved with WPForms LLC.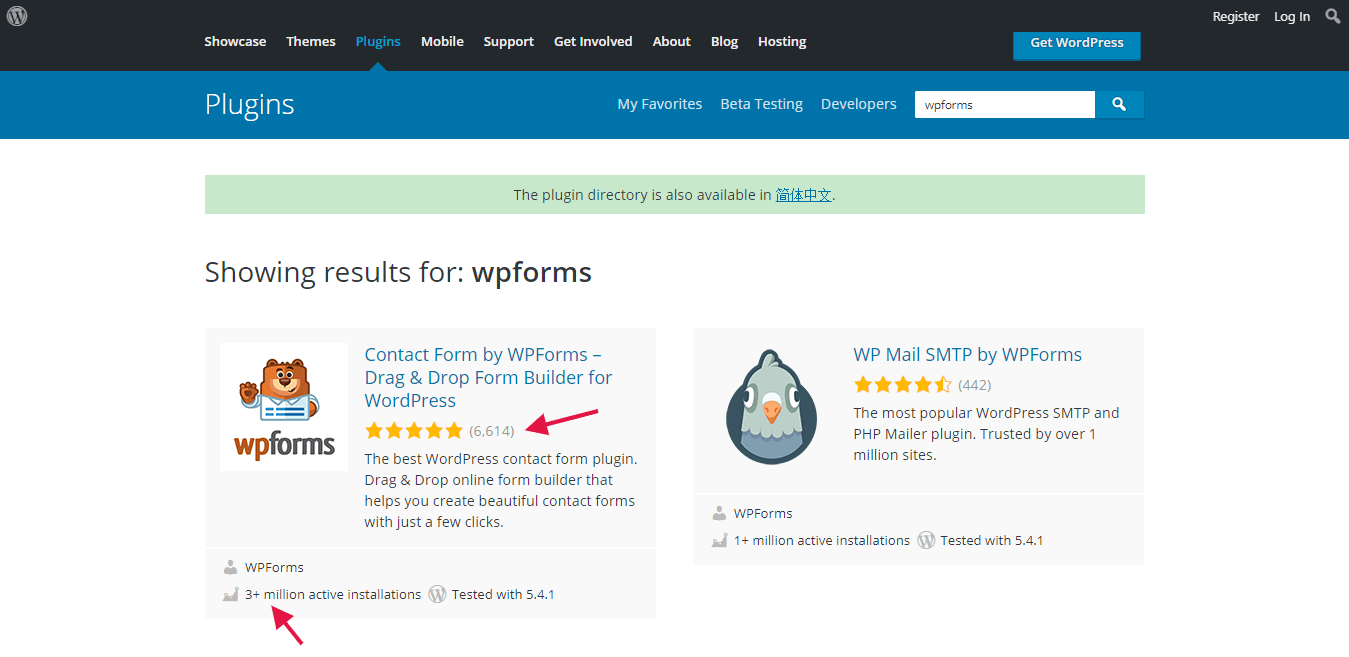 As there are a number of options available in WordPress for Form building, WPForms is the best choice for many Website owners. WPForms is a very popular and recommended Plugin by WordPress. The other reason of WPForms popularity and active installation is, it is a by default Installed plugin by WordPress.
Contact Form 7 is also a Best plugin in Market with 5 Million+ active Installation. If I consider Contact Form 7 vs WPForms for Lite version, WPForms is the best. Where Contact Form 7 has 4 star of 1745 users, WPForms has 5 star of 6434 users.
WPForms developed in 2016 by Syed Balkhi (Founder of WPBeginner). It is the most liked Form building plugin on the Internet.
WPForms offer tons of features to create from a simple contact form to highly customized Survey, Quizzes and Payment collecting forms. You don't need to write a single code while creating Forms in WordPress. I will explain whole WPForms Features later in this post.
With the help of WPForms Plugin, you can create any kind of form in a minute. Moreover you can get full insights of Entries and more.
Must Read,
WordPress Website Building – Marketing and other Features
WPForms Pricing
WPForms is a free WordPress Plugin available on WordPress Directory. However It has also Premium version. It fully depends on your Website Purpose and Niche. If you see WPForms has 3 Million Lite version active users, that means they are happy and satisfied with that. Most of the time people need only a simple contact form that could help to connect with the audience.
Learn More about Pricing with Full list of Features
I will explain in this post how you can evaluate your Website Niche to choose lite or Pro version. Till Let deep dive into WPForms pricing. WPForms offer four Premium Plans with 50% OFF Discount.
Basic – $39/Yr
Plus – $99/yr
Pro – $199/Yr
Elite – 299/yr
Learn More
WordPress Website Development Price Guide : 4 Levels that you should know
Try Free wpforms or Get a Basic Plan Just to start creating awesome Forms
WPForms user Experience
User experience is one the key factor behind any successful Plugin. And WPForms offer seamless user experience to their audience. Without any coding or technical skill, anyone can design and customize contact form with ease.
The Steps of creating forms is very simple. You can select a ready-made template or can design from scratch. This is the cool method that you can implement easily with your WordPress website.
Again you don't need to write a single code while designing forms in your WordPress website. The job can be accomplished by simply Drag and Drop features. Moreover if you need to give some more style to your forms, you can use wpforms css list.
The css class will not be a daunting task i promise. You can simply copy and paste the concepts.
Features of WPForms [Premium Features vs Lite]
Features are really very important while purchasing any WordPress forms building Plugin. Most of the people focus on features of forms building plugin instead of their requirement. I believe you are clear what really you need, you can easily decide whether the features required or not.
Don't worry, I will guide you to evaluate your requirements and choose the right plan's features. Well, wpforms has a wide range of features to design top level forms in your WordPress website. I am going to break down all of those here. Now this will help you understand the features benefit. Moreover you will be more confident to implement those features in your WordPress website.
So let's get started quickly without further delay..
Drag and Drop Feature: Create Form without coding and technical skill
As i explained, wpforms offer drag and drop features to design top level forms. No rocket science, you can easily design and customize forms in your WordPress website.
Form Template: Get ready made template to save your time
This is a wonderful way to save your time and finish a web design Project quickly. WPForms offer tons of ready-made templates. You can select from the library and just edit a few things to finalize your form.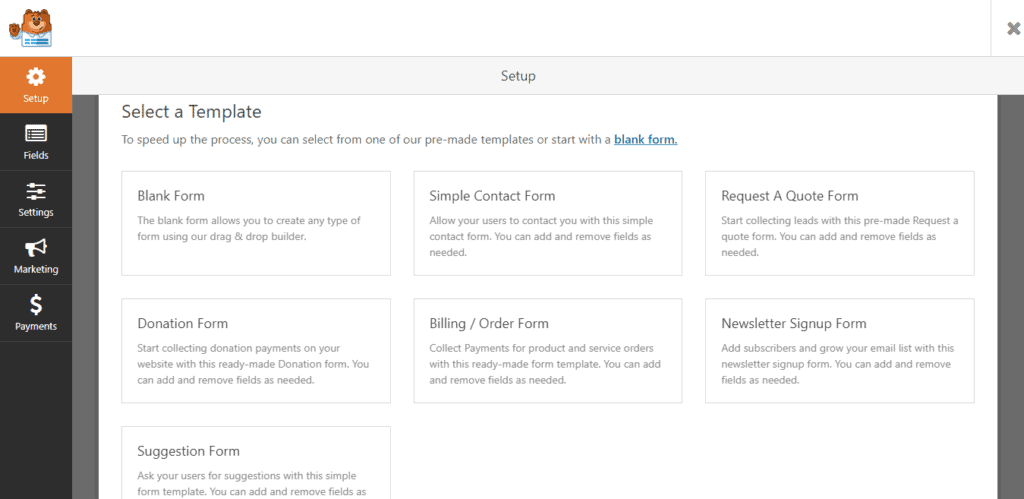 Smart conditional Logic: Show/hide form field based on user intend
Conditional logic is a great feature in wpforms. You can assign every field with logic. It is basically required for a survey or asking some specific question by form. Many times you may see an extra field appear when you select Yes/No in a form.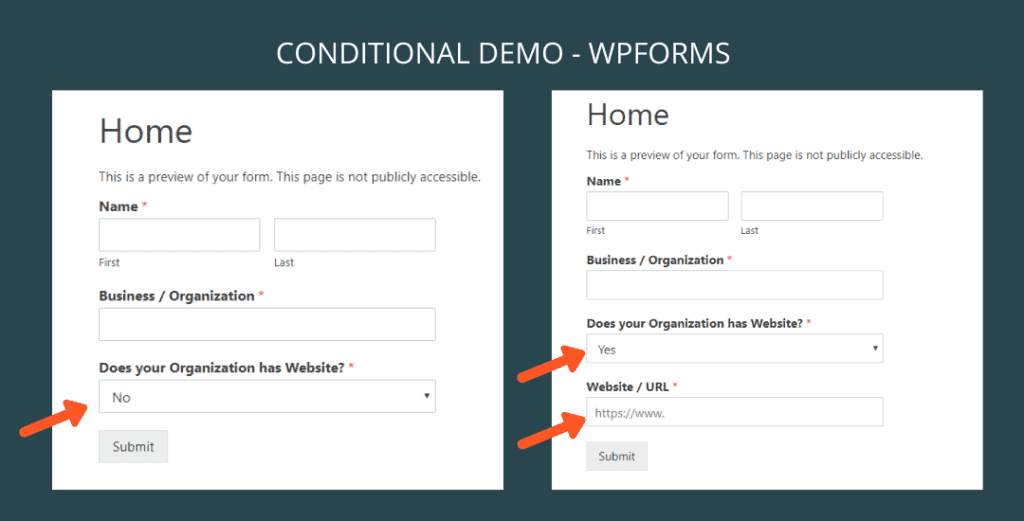 Payment Integration
Honestly i love this feature in wpforms plugin. And why not, if i am able to design a fully custom payment collecting form in WordPress. Yes, you can design your own custom payment form in your WordPress website.
You can easily connect your custom designed form to PayPal and Stripe. Forget to show a default Payment form.
Email Marketing tool Integration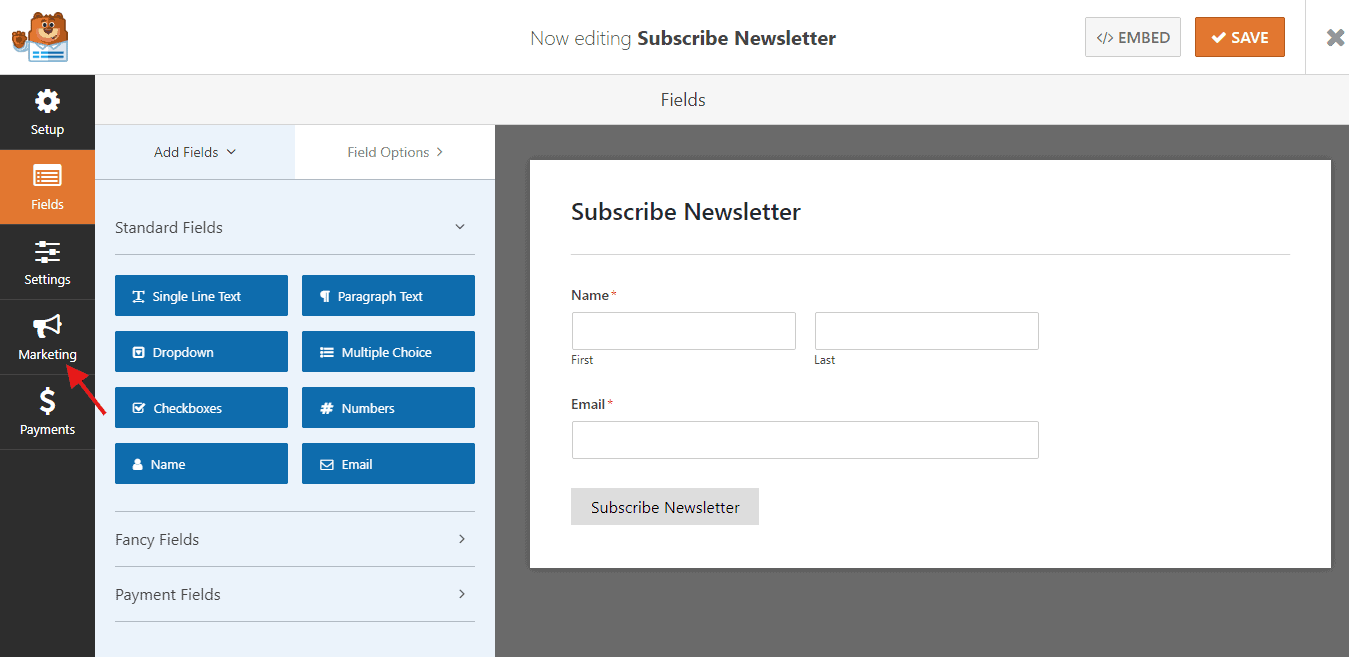 Creating a Sign up Form is really easy in wpforms. Moreover you can configure your sign up form with your favorite email Marketing tools like Mailchimp, Constant contact, AWeber, Get Response, Campaign Monitor, Active Campaign and Drip.
Security feature of wpforms
Preventing your site from unauthorized entry and hacker is the very first thing. And let me tell you tons of websites hacked by the Forms entry. Yes, if your website has not an anti-spam form, you are not safe.
Well, wpforms take care of these things. You can add reCaptcha or custom Captcha to your Forms.
Post Submission add on
If you are running guest posts on your WordPress website, Then the "Post submission" is right for you. You can allow your audience and users to send guest posts by a fully custom designed form.
Survey and Polls
Now creating surveys and polls are too easy with wpforms. You can create a good looking and user friendly survey or polls. Moreover, wpforms allow you to analyze your data with interactive reports.
Form Abandonment
I love this feature. When it comes to holding your potential client, form abandonment helps to send partially data to you. For example if a visitor on your website is filing a form and for some reason he/she left, in that case you can get the partially filled details like email, Name.
Conversational Forms
Forms building plugin has changed a lot. And similarly, people willing to share data if they love the way you give. Conversational form allows one to show one field data at a time with supreme user experience. In that case the audience loves to fill the details.
Which are the Top rated Features in wpforms plugin
Forms Template is a great way to design quickly beautiful forms.
Form Abandonment is one of the best features in wpforms to hole your potential customers.
Offline Forms Submission is another cool feature in wpforms. If connectivity is lost for some reason while filling a form by a website visitor, you can still get the entry when the Internet is connected.
Conversational Form is one the great way to collect data from visitors. When you integrate conversational forms in your website, people enjoy filling data.
Form Page is another option to design a dedicated form page like Lead Page.
Final Conclusion
There is no doubt that wpforms is #1 WordPress Plugin to create contact form, survey and polls. If you are running a basic site where you need only a simple contact form, you can take advantage of a free plan.
Well, Premium plan has seamless features that keep your forms awesome. Overall wpforms is a perfect solution for small-medium business websites.
Apart from this the Pricing may disturb you for a while. Because most of the great features come in Pro and Elite Plan. However investing $199 will be a great deal for you.
If you don't know ActiveCampaign is one of the best email Marketing tools. It is the #1 tool that loved many. And it is the most recommended email Marketing tool by Influencer.
When it comes to merging ActiveCampaign with wpforms, this becomes the best choice. Because it gives some super flexibility and versatile features to boost your website traffic and leads.
Let me know, which features you like in wpforms in comment Box.