What do you think about Elementor Pro Features? [See What i found]
Most of you who are Web Designers are aware about Elementor Pro Features. And if you are new here, i will sure to give you a whole picture of Elementor Pro Features. Elementor is one of Leading and #1 WordPress Page Builder in Market. Over 4M downloads and 3K+ five star rating. Awesome!
Check This Also:
How Much cost to Build a WordPress Website
Web Design Process: Create without error
In this post I am not going to cover the typical things about Elementor Pro Features but i am going to explain something closer that is important for you. If you are a Web Developer, or a Person who wants to design a WordPress with Elementor Pro, this post will give 100% a clear path for Elementor Pro Features. You will understand some of the uncovered facts in Elementor Pro.
There is no doubt that Elementor is dominating the Web Design Industry. I also see this from a second angle like Elementor is the father of many web Design Agency.
Before listing the Elementor Pro features (a Duplication work), let's break all the Feature in 4 categories
There are tons of features available in Elementor Pro, you can see here a long list of Elementor and Elementor Pro Features.
DESIGN
MARKETING
E-COMMERCE
THEME BUILDER
Contact For Web Design Consultant Free
If You are planning to Design a Website without writing a single code of line, this post will help you. Along with Elementor Free and Elementor Pro Features i will break down whole things considering your exact requirement.
I will show you Which Elementor Pro Features you require. And what is not possible with Elementor. If something is not possible with Elementor Pro Features, I will also suggest alternatives to accomplish your Job.
Let's take an example of a Website Development Project. For example you are going to design a Website for Real Estate service. If you are a regular web developer, you can assume what type features, Design elements required while developing a Real Estate website. .however you should take a small discussion with your Clients to align the website purpose with the Real Estate goal.
In general A Real Estate website should have some general features or design requirement as below:
A beautiful Home page with some good looking layout, effect and Portfolio.
A Separate Portfolio Page to showcase work
An appointment booking system for site visit or meeting
A Custom Contact form like Name, email, Interested in 2BHK/3BHK, location and more. A Custom Contact form gives an opportunity to ensure the customer's behavior by Client. You can say, this is kind of a Survey.
A General Contact Form with Google Map
Custom Design for Portfolio Entry Form. This allows your clients to add a Portfolio on the front end.
Feedback or Rating features where customers can share their feedback easily.
Well, These are just some basic and general functions and features that are required for a Real Estate website. It may be more, depending on business goal and size.
So let's a Quick Overview on Elementor and Elementor Pro Features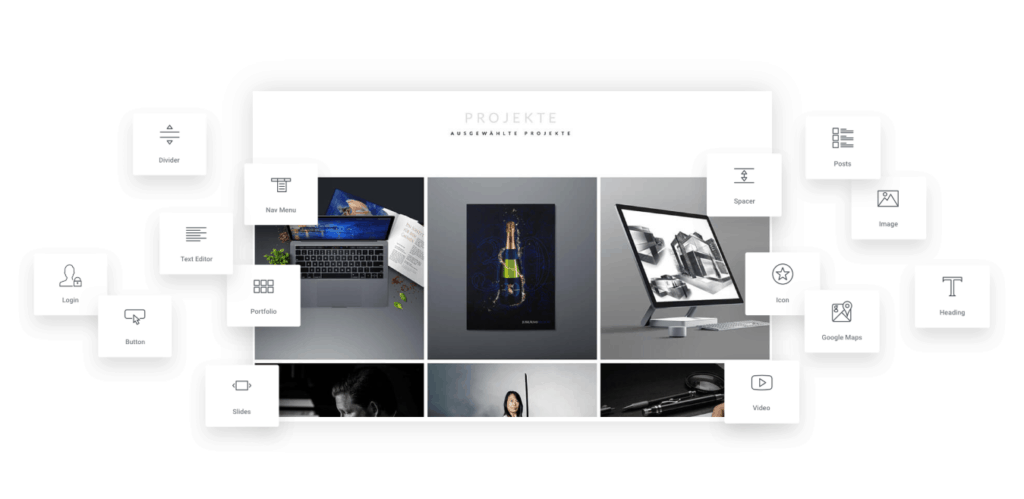 Before starting the Elementor Pro Features review, I would like to figure out what Elementor is. Well Elementor is one of the Leading Page Builders in WordPress CMS. The key essentials with Elementor are as follow:
Drag and Drop Editor: Elementor has the fastest, most intuitive editor in WordPress. Simply drag, drop and customize. That means you literally don't need to write any single code. You can just move your mouse to give a custom Pro design with Your Website.
Ready Made Template: Elementor offers 300+ ready made templates for various industries. You can insert one of them into your Page. your Website will be ready in just 1 Hours. 
Elementor Widgets: It has almost 50+ Ready made widgets. You can easily create any kind of Button, Form, Headline, Hero, Sub-Hero and so on.
Live and Responsive Editor: You don't need to worry, that is how your website looks like on Mobile, Tablet or Desktop. Elementor offers seamless functionality and features to design or edit your Website just switching Design mode for mobile, Tablet or Desktop.
Popup Builder: A serious or Business Website is nothing without POPUP. You can create Popup from scratch or can insert from a ready made template. You can add many conditions with each popup on your website.
Theme Builder: Theme Builder in Elementor Pro Features is one of the best options. You can design a theme from scratch without writing a single line of code. Or you can also edit your current theme exactly you dreamed.
Woo-commerce Builder: Build any kind of Woo-commerce store with Elementor Pro Features. Take 100% control in your hand of your store.
Now Let's dive into Elementor and Elementor Pro Features review and example.
Before getting started let's take a look at the Elementor Page Builder interface. check how it looks.
Let's understand the Most Frequently Asked Question for Elementor Pro Features.
I love this way of explaining something. And of course before choosing Elementor Page builder, you must have a ready list of questions that you can consider with Elementor Pro Features. So let's get started.
What are the Basic Features in Elementor Free Plan?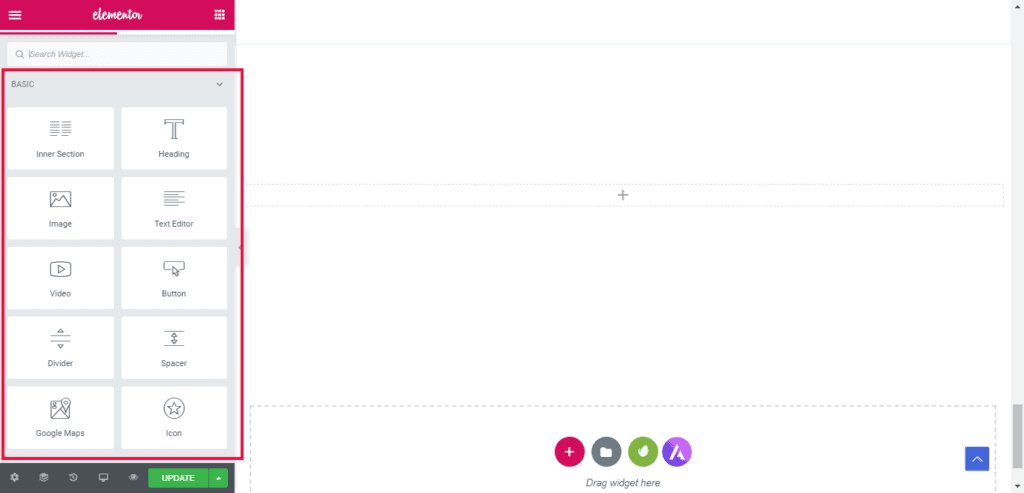 Well, Elementor Free Plan gives more flexibility to design and customize any WordPress website. You can see there are 10 Basic Features at the top. So let's understand one by one all features.
Inner section: Insert another section inside of Primary Section
Title: Insert Title (with H1, H2..) tag
Image: Add Image anywhere in inserted section
Text Editor: Insert text in section
Video: Upload your video by simply putting a link in the video link field.
Button: Create and customize CTA (Call to Action) Button
Divider: A line which can divide two elements (like Divider between Headline and Text )
Spacer: If you want to increase Space between two elements, use spacer.
Google Map: To Show your Business Address
Icon: Insert different types of Icons.
Please Note: The Inner section allows adding another section (Column) in the Primary Section. This feature helps to combine all designs at a Place. And it makes your editing for Mobile device. To insert the inner section in the Primary section, Just Drag and Drop the section inside. Well if you ask, what is the benefit for this? So, simply you can design two terms separately. For example I write Heading & Text in the left inner section and insert images in the right Inner section. See how its looks like in below image
Now see the image below in which I used all 10 Features to create a Simple Hero and Sub Hero Section. You can see I inserted two inner sections in the primary section. On the left side of the inner section I create a Title, a litter Paragraph and a CTA with an arrow icon. And an image on the right side you can see. I changed the background color as Gradient of Primary section. You can replace the right side image with video.
Now let's understand the GENERAL features of Elementor Page Builder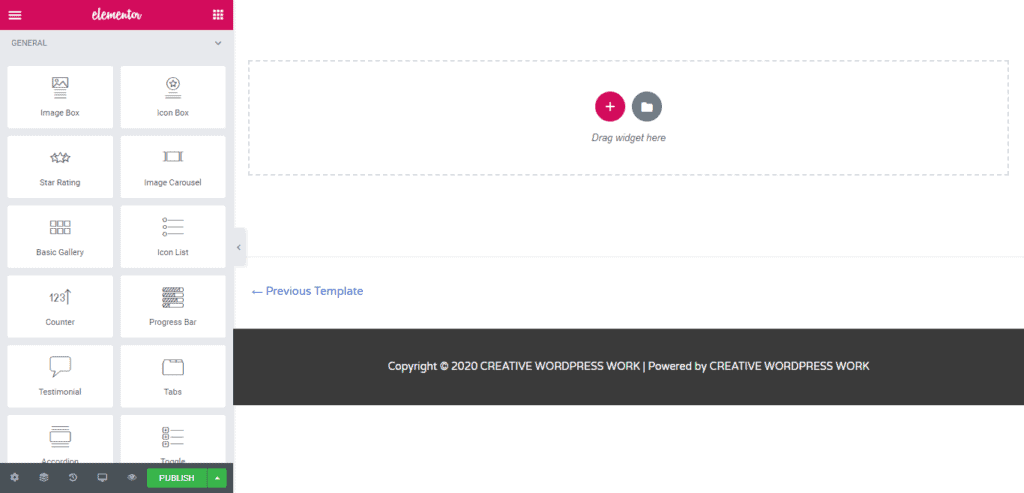 Elementor offers 20 Features in the General category. These design features help to add more elements while developing a website in Elementor.
Let's get started one by all features with examples.
Image Box: You can create an Info box with the combination of IMAGE+TITLE+PARAGRAPH.
Icon Box: This works the same as an Image box, you just need to replace the image with an icon.
Star Rating: You can apply this anywhere that is meant by a Product or service.
Image carousel: You can insert many images and make it as an auto slide.
Basic Gallery: This gives flexibility to show images as showcases
Icon List:. List out items with icon
Counter: Show your Features services by counter in any page of your Website
Progress Bar: Show Progress by Percentage or Numbers with this Elementor Feature
Testimonial: Show your client's feedback with custom designed testimonial feature
Tabs: Provide Information with multi-step of click
Accordion: Use this for FAQ
Toggle: Kind of same feature like Accordion
Social Icon: Insert Social Icon and allow your Audience to redirect to social Media Account
Alert: For Adding an Alert message in Section or Page. It has four levels, Info, Success, warning and danger. You can use them according to your goal.
SoundCloud: Embed your Podcast of Soundcloud.
Shortcut: use this feature to insert any other elements which have shortcut features available. For example WPForm has a shortcut feature and you can paste to display that form.
Sidebar: Insert sidebar (i will this later)
Read More: Break your contents with the Read More feature. That means to real full contents your audience needs to click on Read More.
Is there Marketing Features in Elementor Pro and how the Marketing Features different from others.
Well Marketing is something that every website needs. Marketing feature in Elementor WordPress builder is super flexible and easy to use from the front end. Yes, no those days are gone when you work from the back-end. No doubt Elementor is dominating others Marketing also who provide the same features on extra pay. However Elementor provides tons of features to boost your website with its Marketing Features. Whether you need to build a contact Form, Newsletter form, Popup, Landing Pages or any CTA field.
So Let's understand the Marketing Features in Elementor Page Builder Pro. There are a total seven Marketing features available in Elementor. And of-course these are enough to design a Website with a fully marketing tool.
Landing Page: The Marketing strategies changed from the last few years. Marketers adopt new methods for selling. And that is to land people on a particular product's page. This is called Landing Page. The Word Landing is so straightforward, you see anywhere an Ad on social Media and the link lands you to the page. Basically a Landing Page covers some of the things to catch audience attention and those are Product/service information, Benefits, Testimonials or review, a Quick actionable Form, Embed video, and many other things considering things of course. With the Elementor Pro you can design a super powerful landing page that can engage people and convert them into customers. Foundr is a Global resources and leading company who provide valuable courses to boost your business and skill. They use super quality designed and developed landing pages. You can see here the real example
Form widget: This widget in Elementor Page builder allows you to create any type of Form with just a few click and by drop and drag method. So simple! So it's time to say goodbye to designing forms with other Form Builders and inserting them into the Elementor Page.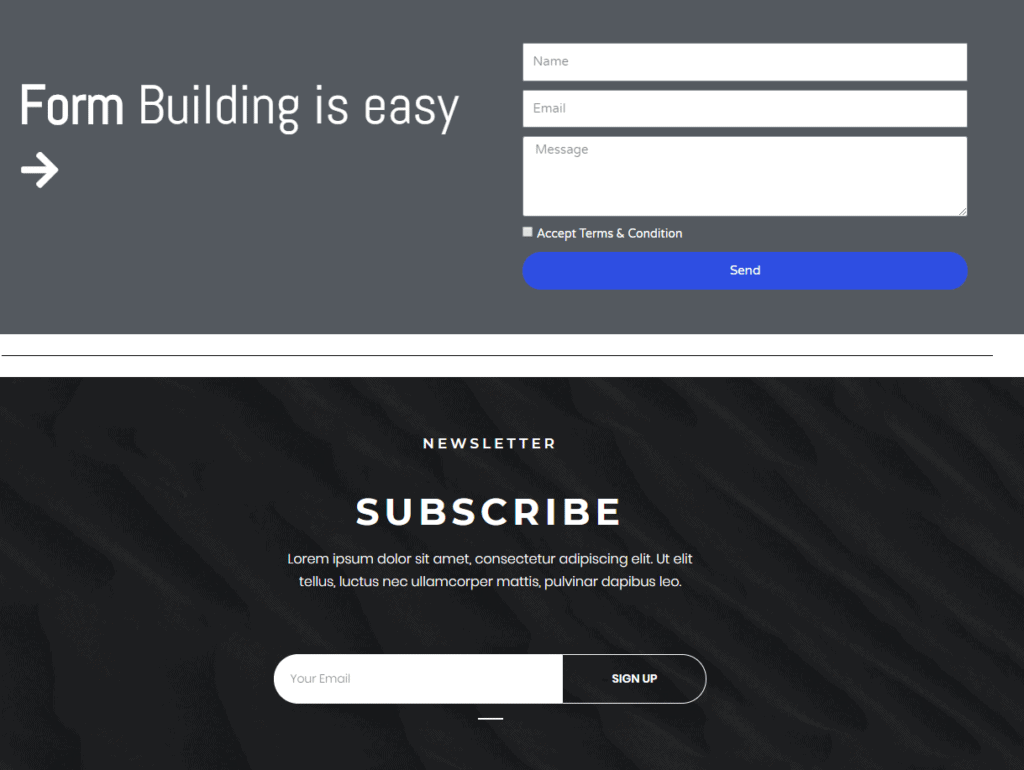 Testimonial Carousel Widget: Showing testimonials on your website is one the key elements for conversion or building trust for your company. The thing is how do you show your clients feedback as testimonial? Well there are many ways to say to the world what other people are saying about your product or business. Testimonial carousel is one of them. Well it not only shows a better way of feedback but also reduces tons of space on your website.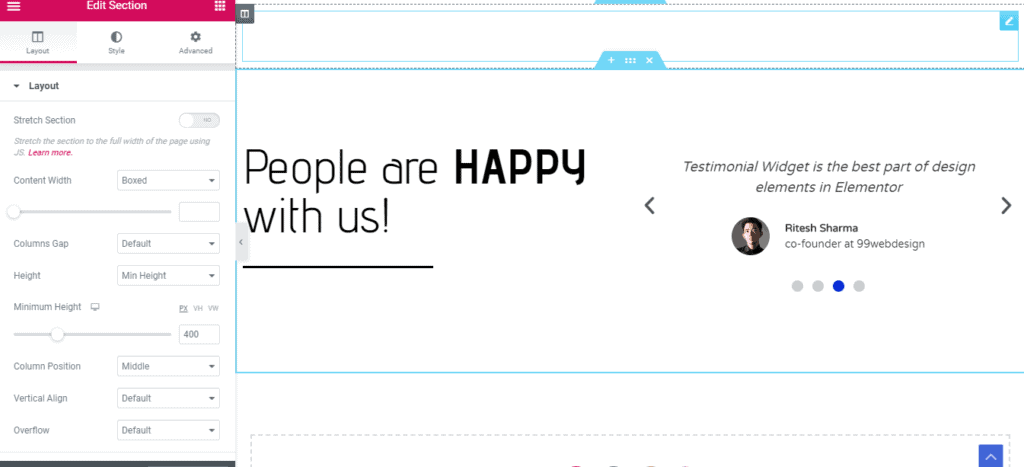 Countdown widget: If you want to make a solid impact + urgency, this widget for you. You can set a countdown for your product and service offer and expiry.

Rating star widget: You can Add rating to your special Product or service. This feature allows you to show social proof on widgets.
Action Link: This is another best part of marketing. You can easily connect your audience by WhatsApp, Google Calendar and more.
Popup Builder:  Literally you don't need to pay extra on the second party for popup Builder. Well this Premium feature comes in Elementor Pro. Who don't love Popup? Everyone wants to grab attention or hold audience existence by showing a Popup. You can easily build popup, can make various display conditions and many more. This pro feature help to grow your email list, increase sale and more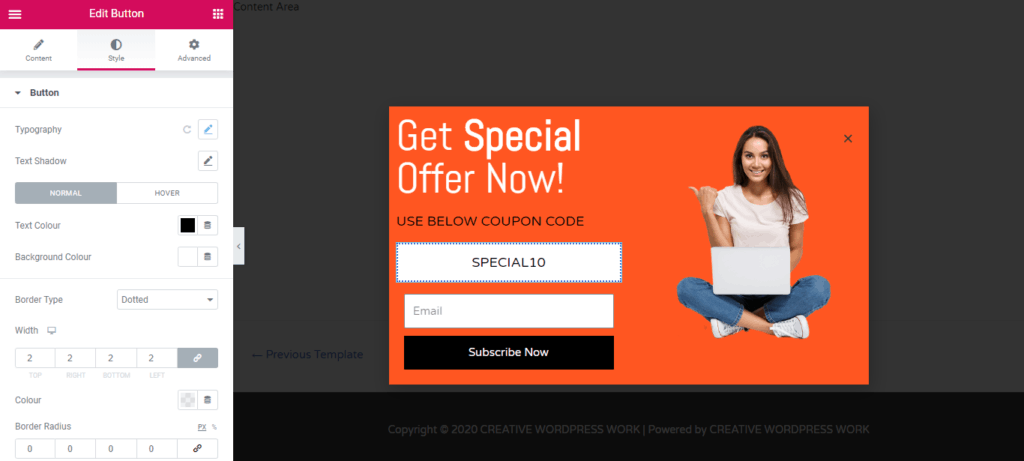 Can I Design a Custom Website or theme with Elementor Pro theme builder?
Well, the Theme Builder feature in Elementor is the attraction of many developers. And of-course you can design, customize any WordPress theme without coding. You can give a custom look exactly the way you want. It's like you got full control and freedom to build your dream website with Elementor Pro theme builder.
Now let's see what inside of the Elementor theme builder? Let me show you how you can design websites with drag and drop features. I am going to list down all essential features from Elementor Theme Builder. Theme building features Divided into two sections. First theme Builder and second theme Contents.
Theme Builder Features as follow
Header and Footer: Of course, you can design your own custom header and footer. This features Elementor Pro also allow you to add more effects like Sticky Header, Color Adjustment and many more.
Custom Sidebar: You can design or customize your sidebar easily
Single Post: There are some limitations in regular WordPress themes. Because you can't feel full freedom when it comes to customizing a single post template. But with Elementor you can customize a completely single post template. This is like a game changer in WordPress Web Design.
Blog Post Archive: Again you need a hard game with an old WordPress theme. You can design Post archives exactly you want. Even you can use ready made beautiful templates, if you don't want to start from scratch.
Search Page: Allow People to search your entire contents by putting a simple search box on any page.
Woocommerce: Now you can build a custom estore and single Product page. Of course for whole woocommerce, you have now control.
404 Page: give better user experience by designing creative 404 Page.
How does the Elementor Theme Builder exactly Works?
The Beautiful part of Elementor theme builder is you can design dynamically a website along with quality visual Design. You can set as many as display conditions easily. So overall you have full control and freedom to design a supreme website.
Let me ask you something.. Do you really Feel Elementor is good for Web Design? Please share your feedback in comment Box.