If You are serious in your career, then you must adhere to website design principles in 2020. According to many experts, Website is not only a place where you showcase your products and services. Websites are an essential part of business as I already explained in my previous Post. Website design industry is growing rapidly and there is a good opportunity for many new Web Developers. According to a study, many web Projects seems not effective because of Poor design. And a poor Website can't give results to your clients. If you are Just starting a career in Web Development, you must follow some Principles while creating a Website. So, in this post I am going to share that, How you should implement Website Design Principles in 2020.
A good looking Website does not work at all, if the features and functionality are not working well or that is not aligned with business goals. That's why you must be aware about Website Design Principles. This post is designed to help you with Web Fundamentals.
What You are going to Learn in Web Design Standards
What is the Website Design Principle?
Why The Principles of Website Design Important in a Developer career life?
How to Design a Website effectively by applying these Website Design Principles?
Learn 12 Website Design Principles in 2020 right Now.
And Lastly Some Demo and Example of Top Resources where you can easily start
What is a Website Design Principle?
Basically, Website Design Principle is a range of proven theories that a Web Developer applied in their Web Designing Process. The new invention also comes with more challenges. When it comes to designing a fully functional website, there are certain web design rules that you should follow. For example Bold and large Typography is a Web Design trend, but you must think how it is good for actual users. Many Web Design Trends look good, I agree. But you must care about functionality. According to Sujay Pawar, Founder of WP-Astra Theme, website design doesn't necessarily mean how it looks and feels like but is how it works. Even a simple looking website with exceptional usability and well-structured typically performs amazingly on Google. User views of such websites are also higher than those with poor user experience. The performance entirely depends on the effectiveness of the website.
Why The Principles of Website Design Important in a Developer career life?
If you agree with the concept of web design, which means, a website should look good, functionally good and behave like a good user experience. And when you follow some essential web design trends, you can find out how the website designing process has been disciplined. I believe that Discipline comes with solid Web Design Principles. In listing Web Design Principles, there are several things you should care about. For example Who is the target audience, What is the purpose of the Website, How can you design a website that could align with client's business goal and of course the user experience. A Website Design standard guides you to design websites on wow level. In this post I am going to share 12 Website Design Principles.
How to Design a Website effectively by applying these Website Design Principles in 2020?
Let me ask you, what is meant by a good website design? If you are stuck with the Word "Good", let me tell you. A good website doesn't mean it should look good, rather it should work like a best Marketer in your client business. To design a perfect website you need to understand who the targeted audience of your clients are. Because you are not going to design a website for your clients, it must be designed for your client's audience or potential customers. Now find out the purpose of the Website. Once you figure out this thing,you can define required features to design a website.
Learn More
Advance Website Design Process [Step-by-step] : Understand this to speed up your Website Design Principles in 2020
Now let's deep dive into 11 Website Design Principles in 2020.
There are several Principles of Website Design, in fact you must have awareness and knowledge about all of them. In this post I have covered 12 evergreen Web design standards. These web design rules will help to develop a creative and Results driven website.
1. Remember You are designing for Client's audiences. [A critical part in Web Design standards]
I agree! Many people make mistakes while creating Websites by not considering the ideal or potential customers. The Website Design rules instruct to design websites for Ideal customers. For example if you are planning to design a website for cleaning service. Then make sure, your ideal Customer is the person who is looking for a cleaning service agency, not the owner of the agency. You must mention company information, but there is a tricky way for that.Who care Who you are? People care one thing if your website can grab attention for potential customers, you did a good Job. and to make this happen your website design elements, whether that is content, images, Video, Product Information, should tell the solution.
Let me give you an example, Pat Flynn is a popular Business Blogger, if you visit his Website you will see at first, "Learn and Master the skill you need to Build Your Dream online Business". Did you notice how Pat's website describes him as a Expert in building an online business from scratch.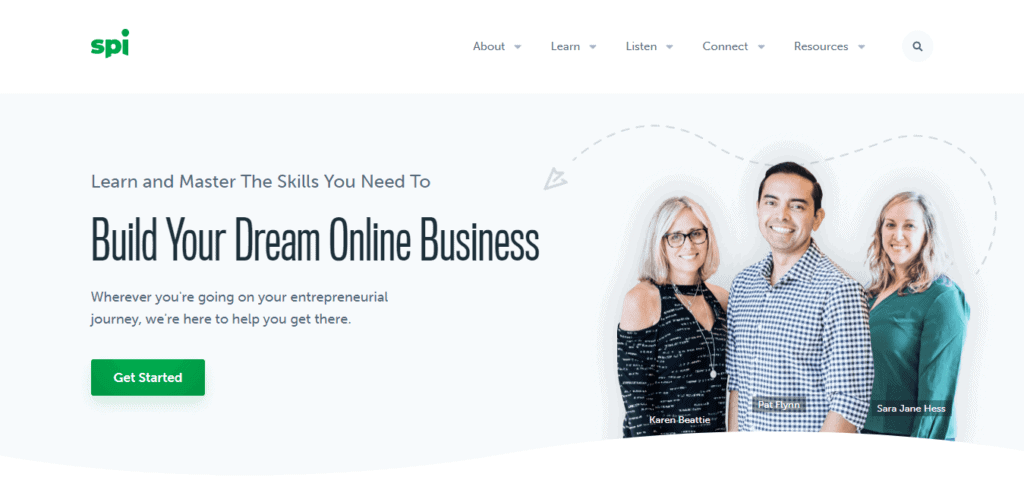 2. Keep it Simple: People love Simple Designed Website
The Next Web Design Principle is building as much as a simple website. Wait, simple doesn't mean compromising with look, contents or layout. Don't try to put unnecessary things on websites just to make an impression on your audience. This doesn't work at all. People can easily judge you, and never come back. So remember one thing that every visit on your website contains a purpose. So keep information simple and accessible so try to provide information to your audience as soon as possible. Let your audience grab information from your site quickly.
3. Maintain Consistency in Visual Elements [An Important Key in Website Design Principles]
Don't make your image as FAKE in the market. Using multiple colors, fonts and other visual elements makes your website poor and it has a bad impact on your business. To save time in creating a final website for your client, make sure to finalize all visual elements in Advance. Visual Elements literally make a good impression on audience behavior. When your website visitors see a consistent visual in the entire website, they feel confidence. And they start engaging with your website. Here is a list of visual element to help you quickly:
Define Font for Paragraph (You can Single font for Heading, Subheading & Paragraph)
Finalize Brand Color [Visit Adobe color Wheel]
Finalize Button Color match with other visual elements
Define Style of Button style
Define the section background color which will be familiar with your Brand color.
Choose Images, or illustration fits with your Brand color.
4. Keep simple and Easy Navigation
People/Visitors can not walk all the way to your website for the information they are looking for. So if you do not want to lose your potential customers or traffic, make sure to develop an easy accessible Navigation. The Three-Click-Rule is recommended for better user experience and navigation. That means let your visitor return to your Home page within three click max. Additionally, Add your top Blog post category in Menu. The benefit of this design is, people can easily find a whole bunch at one place. For example, Pat's Website shows a bunch of all quality contents at one place. So you don't need to navigate all the way, you can see the whole information at one place with easy Navigation at top. For better results, keep a clear and easy sitemap, your Site Architecture.
Learn More:
Site Structure guide by Search engine land.
5. Focus on User Experience
These days people don't have patience and time to spend on your website. If you fail to make them happy, this is a strong signal for a search Engine as a Poor Website. Better user experience not only impresses your audience but also improves your SEO. So, for a business perspective or to maintain your online presence make sure everything is perfect with respect to visitors of your website. As explained earlier, use single font, single color to give a consistent flavor to your website. Make sure to use a Heading Tag and Paragraph Properly. Give a clear CTAs (Call to action). Your contents should have a compelling title with a promising solution (that you are supposed to give) and of course CTAs accordingly. You can develop this at the start of your website. For example if you are using WordPress, you can customize Font, Size, color for Heading, subheading and Paragraph.
Learn More: Design Process for Website for better UX
Basic of User Experience guide by Mustafa Kurtuldu (Design Advocate at Google)
6. Focus on Website Loading speed
Website Loading speed is a part of User Experience. In Web Design Principle you need take care of Response time of your website or a specific contents. According to a Google' Platform (Think-with-Google) 3% of people leave the site if a download takes longer than 3 seconds. There are many key elements that boost your website speed, like the Server(Hosting you are using) or Theme in WordPress. Even Your using of tons of design elements also slows down your website. For WordPress users, make sure to use Recommended Themes like Astra and Hosting like Bluehost. If you combine many things, you can definitely achieve your goal. Moreover you can also refer to a WordPress Cache Plugin to boost your website. WP-Rocket is #1 solution for this.
Use Google PageInsights free tool to check your website speed. It shows you results and also reasons to improve your website speed. I will recommend working on Mobile user points.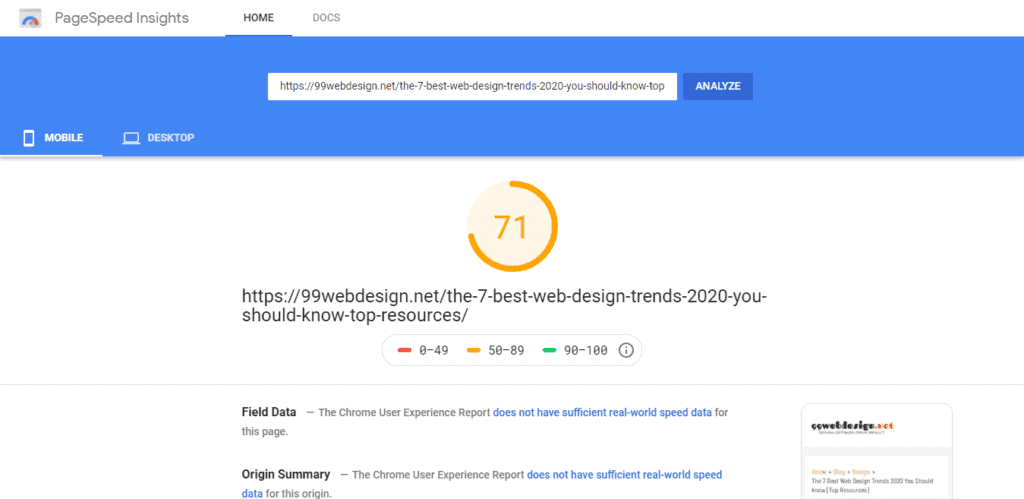 7. Identified CTAs Type and Place it on right Place
You may have heard about different types of CTAs (Call to action) in Web Design Fundamentals. Some of them try to engage people and some try to convert. But do you know where the CTAs should be placed with respect to various scenarios? "Learn More" is a common CTAs used on the Home Page. It generally sends people to About Page, or a featured Product that you're selling. In my view, such type CTAs engage people throughout your website.
Mailchimp's Website is a Perfect example for this demonstration. You can see a compelling Headline, short paragraph and strong CTAs (Call to Action).
8. Typography and Readability: SEO also works on this
Website Design Standards says to focus on Typography and readability. These things improve user experience and of course SEO Performance. In the term of website design, you must care about fonts. Don't mix up too many design elements with your typography. Keep it simple and creative for the home page just to grab attention. But don't show your creativity while creating a single Post Template. You can choose Font and size for Heading and Subheading. Your Headline (H1) should be bigger at first. And remaining all subheading small accordingly. For Example if your Headline (H1) is 35px, then H2 must be 28 (or near about to match with other H3 and H4). You can use Elementor to design a custom and user friendly Single post template with a few clicks.
9. Mobile Friendly Website
According to Google Mobile Website is a very critical part of your online presence. It is because almost 54% traffic comes from mobile devices. If your website is not mobile friendly, then this gives a signal to google as a poor website. Google will never rank you. With the fast moving technology, Mobile is #1 source for getting any information on the internet. It is just to take a phone from a packet and start searching stuff on the internet. So easy. But this created challenges for many web developers especially those who are starting. Even many web developer experts say to develop websites first for mobile then Desktop.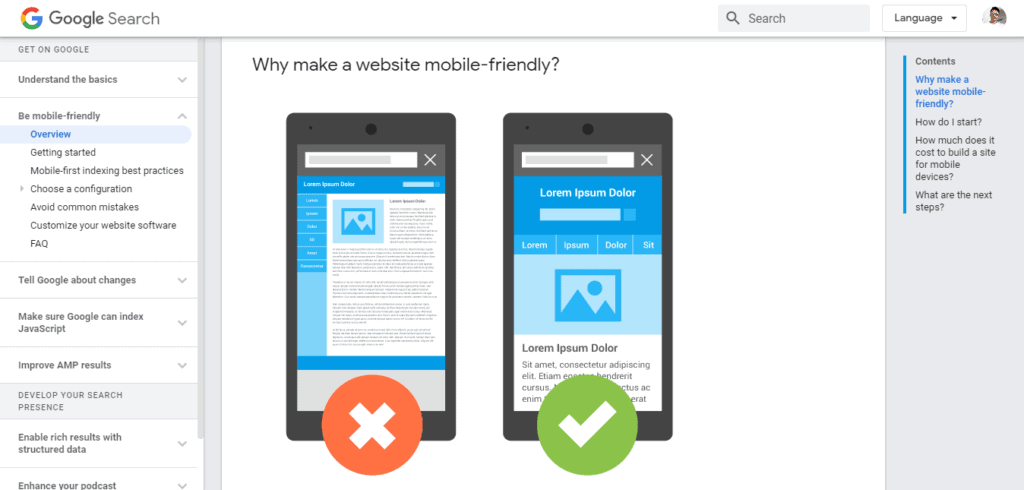 Google officially says that Mobile Friendly websites should be considered as a Ranking factor. You can check your website on Google Free tool, whether that is mobile friendly or not.
Learn More from Google for Web Design Standards
Mobile SEO guide By Google
Common Mistakes while creating a Mobile Friendly Website
How Google can help you to reach more people from your Website : Case Study
What Makes a Good Mobile site: Jenny Gove (UX Researcher Lead at Google)
Free tool for Web Developers
10. Color Palette and Imagery
Some People try to play with many colors and non-familiar images while creating Websites. Before starting crafting a website you must finalize eye catching color to spread to the entire website. Using single and unique color gives a better user experience to your website visitors. And it also indicates that, website was designed by a serious hand. Make a attracting combination of color to use for background, Button and other design effects. Try to give the same tone of color. Adobe color Wheel can guide you better.
If you see Yoast Website Design, wow it is amazing and well crafted with unique colors and illustration. You can't find any odd color or images there. Even you also can not find any different variant in Images used for Blog posts or any other places.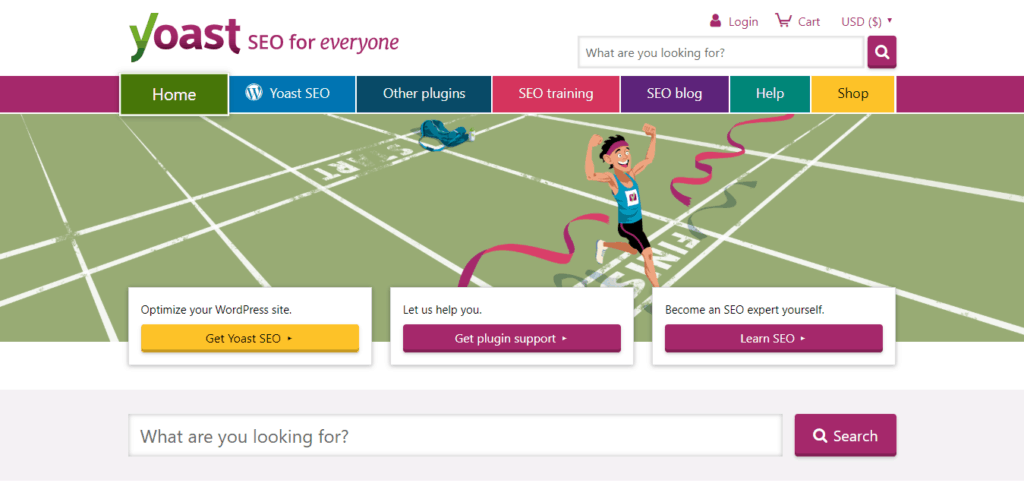 11. Concise Content's Category Placement.
If the Purpose of a website is getting more leads from Blogging strategy, you must think about it seriously. Remember, your audience has a specific purpose of visiting your website. If you are unable to show easily what you have, you will miss quality leads and traffic. And that's why organizing your blog categories is very important. It helps to improve user experience and of course good signals for SEO also.
For example, Shoutmeloud is a Global resource for better blogging guidance and if you visit it's Blog Page, all the categories you can see on the right side. You can decide quickly what you need.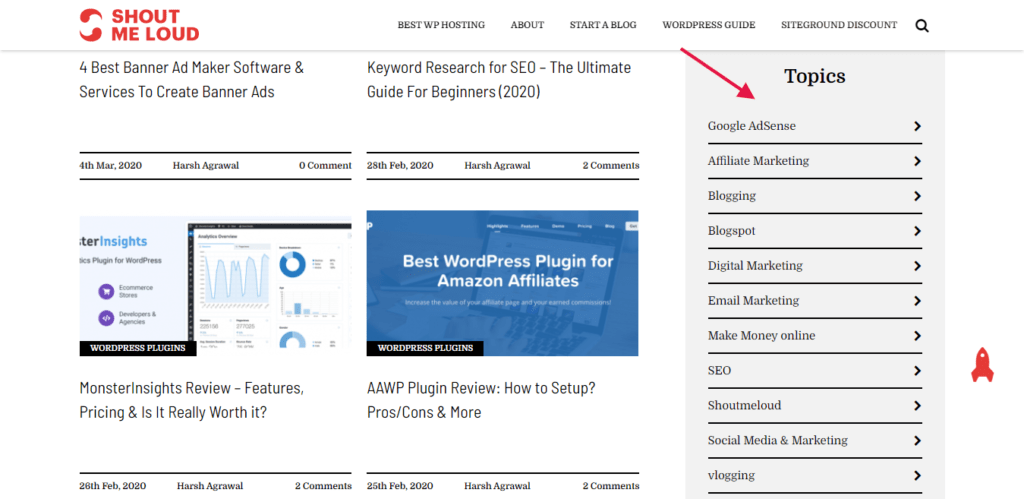 Let's Join for Conversation, Please feel free to share your idea in Comment Box.