Get Ready to Lean, a Business Plan through Blogging
Imagine your idea of selling an eBook on "How to shape Body" with a high profit margin, just from your laptop, no worry to maintain inventory, it's just to sit in your home and promote from your computer and earn money directly in your bank account. I love this framework because I am getting a 100% profit margin in my hand without moving to another third party eCommerce site.
Before getting a curiosity in your small mind, let's describe a Business plan especially when you decide to sell your product and service from your website and Blog. What is the right method to develop a solid business plan through blogging that engages the audience and turns them into customers.
Getting your business online and monetizing your blog to sell online courses or ebooks or anything you want is so easy. But why all of you fail, why are some people doing perfectly?
I am going to walk through step-by-step strategies for Business plans to get your products and services online for high quality leads. With 100% adherence to these strategies, you will be able to find the right niche, Recurring income source, generating quality traffic on your Blog or website and finally planning new ideas of leads after analysing the data of existing audience behavior.
What You will Learn?
Right Niche: Find the Problem and your Solution
How to find Income Source+Build your Own
How to get quality traffic on Your Blog/Website
What are the right tactics to grow an email List and Why?
How to analyze the existing data of your website/blog to serve better again?
Blogging is one of the right and best methods to increase your brand awareness along with quality leads. Even many World top influencers like Pat Flyan, Harsh Agarwal, Neil Patel, Shyad Balkhi and Many more use this tactics to build their Million Dollar empire.
My question is Why can't you get started? I am here to explore all the essential and real methodology that really works in a Business Plan with a Blogging idea. dive into deep.
Right Niche: Find the Problem and your Solution
The best way to find the right Niche is to define audience problems. And when I call "Define Problems" means you need to figure out who your target audience is. Basically you need to work on What people have exactly problems related to that topic(niche) that you know or are skilled in.
"The Best of success in Business Plan through Blogging, is choose the topic that you really care about and you can sure help in."
For example https://www.fitnessvsweightloss.com/ is a blog where Kanana Gautam helps weight loss, she provides a free diet plan for their audiences. And feel happy to help others. If i talk about the Domain (https://www.fitnessvsweightloss.com/) so it has rank 32 India and for English countries. The website has thousands of Monthly visitors on her website and around 3K organic keywords. Moreover this people loves her efforts and guidance and that's the reason of 20K+ Social Media Followers. The Fitness-Weight-loss website has a handsome revenue with Google Adsense.
So what is the reason behind Kanan's success. As i explain above that " the best of blogging success is to choose the topic that you really care about" and it's done with Kanan when she lost 30 kg at the age of 40 People started following her to know what really worked for her. Even she did this without any professional knowledge. You can read about it here.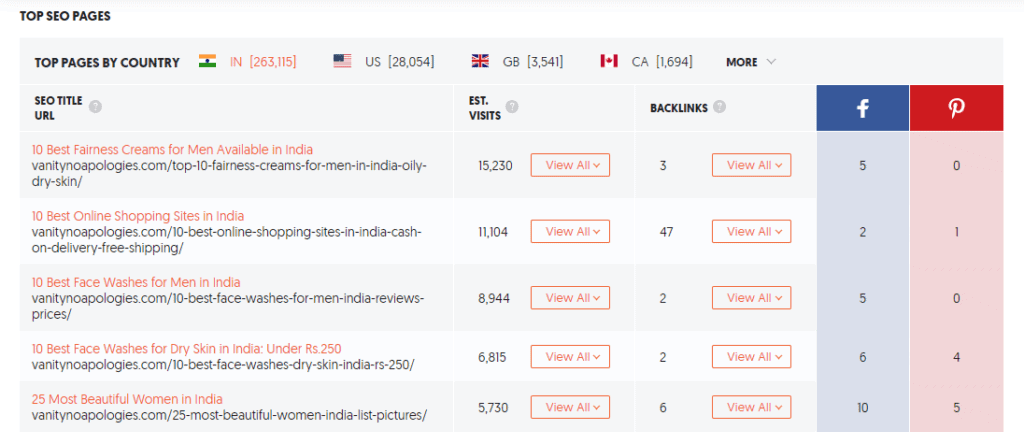 Another example of https://vanitynoapologies.com/ which is a wellness website run by Anshita Juneja (Founder, Editor-in-chief). The website has tons of wellness tutorial, guide, tips and tricks. Moreover the website is well known as a Global reference and resource for beauty news, wellness guide and so on. Again the success of this blog is Anshita had the idea that people need proper guidance for cure health and wellness. Anshita is now helping thousands of people from her website blog and social media.
The website-blog has currently 3 Lakh visitors per Month which is a huge traffic for any website or blog. It has 43 domain scores and almost 15K visitors per Month on each published post. It has also a great revenue from Google Adsense. The popularity of this brand is increasing day by day as I can see in research and marketing graphs.
How to find the right income source?
If your Business Plan is just blogging and earning money without selling your own products, this guide will definitely work for you. But here is the twist,that helps to design your own products in the journey of blogging of your interest. smartpassiveincome.com is a great Global reference and resource for better understanding of Digital Marketing and building an online Business.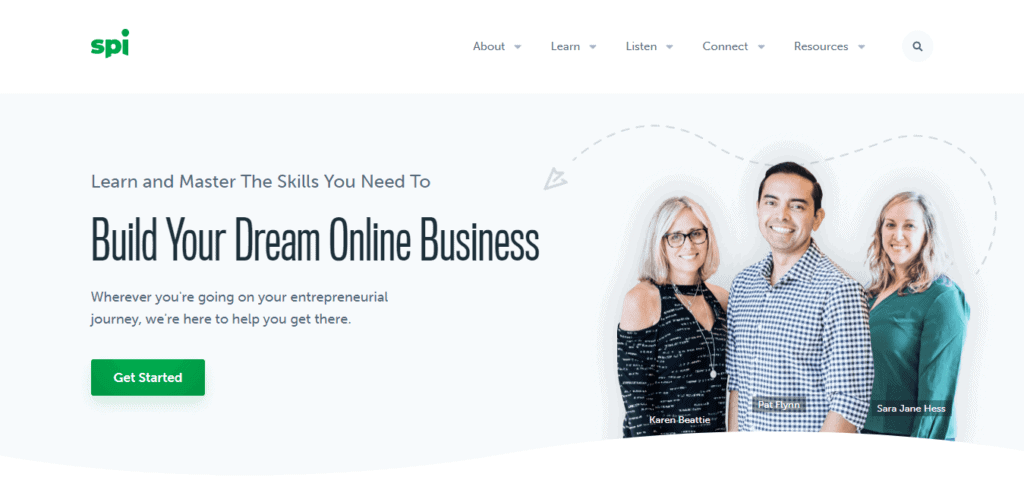 Pat Flynn, founder of smart-passive-income, always believes in testing, validation, evaluating digital products. Along with that he has some solid courses that he designed with his own. The courses at SPI are so popular and loved by people. Thousands of people have good benefits after joining the Pat's courses and implementation of his methods in business.
Thought 01 Got you, why am I taking the example of Pat Flynn?
Let me explain.
Pat always writes and speaks about building hassle free online business.so he has tons of ideas, how to develop a business plan, How email marketing helps to grow business and How affiliate Marketing can boost your sales? So he designed such types of courses to help people and entrepreneurs. That means he has good blogging experience and based on best results, he designed his own products "The Online Courses" on Paid basic.
Thought 02
Pat has a lot of affiliate products. Through his blogging he recommends many products and services for their audience. So additionally he got handsome income from Affiliate marketing. So this is another term of building an income source in your blogging journey.
What are the right tactics to grow an email List and Why?
Building an email list is one of game changing task.the biggest terminology in email marketing is you can connect your audience directly into their inbox. You can promote or share your product or service information directly to the individual inbox. Apart from this, if you have a huge audience in your email list, then you can also get quality traffic without spending too much time.
But how will you build an email list to accomplish your goal? According to Pat Flynn email marketing is one of the most valuable components in your business. He says" Building a list and sending great emails is not easy though. If you're like many, it can seem like learning a new language, or maybe you've tried it and it just didn't work for you"
Here is my some best method to build contact list for your Business
Step 1: Analyze your current existing contents:
The First and best step in building an email list is analyzing your existing content. Checking where people are taking much interest. Which page of your website is getting good traffic. To get this easy you can walk deeply in Google Analytics or some other useful SEO tool.
Step 2: Design a Lead Magnet: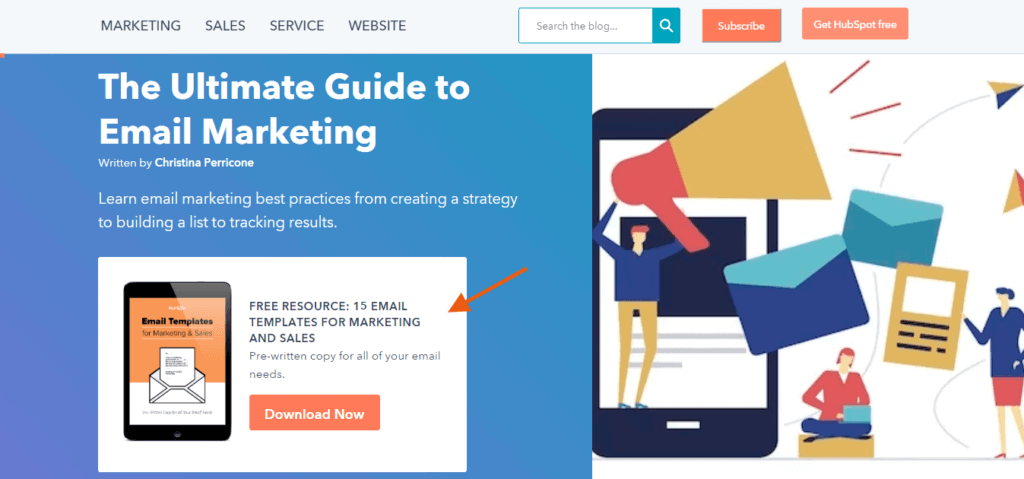 I believe the Lead Magnet must be designed based on your current website performance. For example if your blog about "Healthy Diet" and audience is spending much time on a Particular existing category that is "Veg Diet for Healthy life". So the goal is clear to design something free on "Veg-Diet".
Below is an example of HubSpot blog, where a Lead Magnet (Free Template) you can on the top. Once the audience is satisfied with the ultimate guide for email Marketing, the chance is 100% they will sign up to download the free template.
Another example from Neil Patel, while you visit his website. You can see a Survey POP UP where you need to complete a survey with your email id. The purpose of this method is to get email contact by Quiz, Survey, eBook Download, check sheet etc. 
How to analyze the existing data of your website/blog to serve better again?
The best way to maintain your online presence is analyzing your website/blog from time to time. Every time when you realize you get something new stats on your website. That means you need to find an opportunity to re-marketing for your product or service. 
So the thing is how it works? How will you analyze data on your website and what to do exactly with that? Well you can check in Google Analytics which page of your website is getting huge traffic (as i explain earlier). Once you find all the contents which have good traffic, make those listings. Now check what you can add and write something more better based on those topics.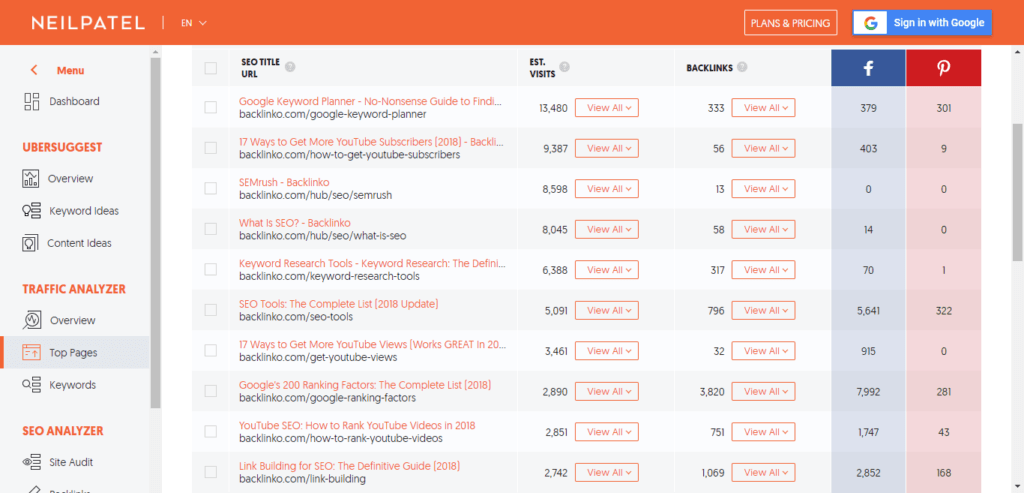 For example Backlinko.com has huge traffic, it is almost 700K+/Month. And you can see some of the top pages below. And try to notice that 3-4 blog posts are related to Youtube. This is a contents-planning.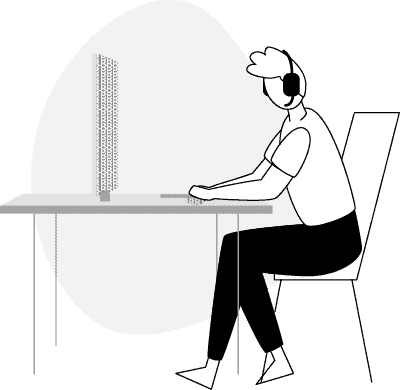 GET YOUR NICHE VALIDATION FREE